Case for Device MINI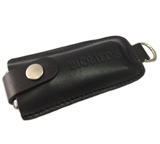 The case has been elaborated to be used for the device "MINI". It is made of natural high quality leather. The case has deliberated construction.

The device is easily retrieved from the case with the help of the internal strap. A special ring enables carrying the device on a chain or a cord. The case is a reliable protector of the device against mechanical damages and scrapes.

The compact and smart case for "MINI" has the same configuration as the device has. So, it ensures an exact fit. Other distinctive feature of this accessory, durability and stylish design would greatly complete the image of the owner.

Achtung! Dieses Produkt nimmt nicht am Affiliate-Programm teil.
---
Case for Device MINI
The Case is made of high-quality natural leather and elaborated to be used for the device "MINI".

Achtung! Dieses Produkt nimmt nicht am Affiliate-Programm teil.
» Kaufen


Attention! before ordering this device verify its availability in stock.

9 USD