What does BIOMEDIS represent?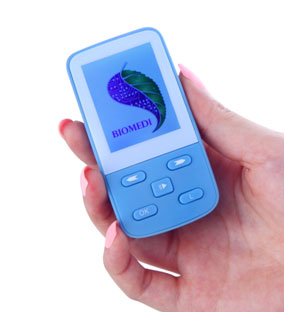 BIOMEDIS is a medical device indicated for application of low frequency electromagnetic therapy. BIOMEDIS will help you to improve your health and immune system, and prevent diseases in time.
How does impact by the device BIOMEDIS take place?
The device BIOMEDIS reproduces informational signals of our body. Electromagnetic oscillations of low intensity which are generated by the device cause resonance response in the organism. Thus, the following processes take place in the body: activation of physiologic oscillations which correspond to healthy cells and organs, and neutralizations of pathologic oscillations caused by ill cells and tissues, viruses, bacteria and fungi. As a result, the organism restores normal functioning of ill organs and homeostasis of its systems. Applying BIOMEDIS, we run body's natural mechanisms of self-regulation.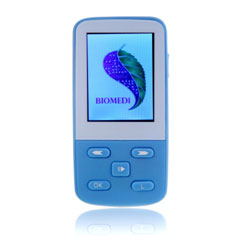 Effectiveness of applying bioresonance therapy is explained by impact on regulatory links of adaptation system through biophysical processes which are above biochemical ones in the hierarchy of body's regulatory system. Thus, not only symptoms but also causes of diseases are exposed to the impact.
Post-clinical trials and experience of applying by patients with various diseases display high efficiency and complexity of impact by bioresonance therapy. Applying the device for getting health, it is possible to prevent irreversible changes in the body. Since the device is widely used, it is applied together with any other methods of treatment, prevention and rehabilitation, improving these processes.
Indications linked with usage of BIOMEDIS

According to Methodical recommendations of Ministry Health of Russian Federation №2000/47, bioresonance therapy is indicated in the following cases:
functional disorders of different genesis;
diseases of central nervous system and sense organs;
diseases of vegetative nervous system;
pain syndromes of various localizations and genesis;
diseases of cardiovascular system;
diseases of respiratory system;
diseases of digestive system;
diseases of skin and subcutaneous tissues;
diseases of musculoskeletal system;
diseases of urinary system and reproduction;
poorly healing wounds and ulcers.
BRT not only restores body's damaged functions but also has destroying influence upon parasitic agents. The device contains a large list of anti-parasitic programs.
How should BIOMEDIS be used?
It is very easy to use BIOMEDIS. After turning on the device, you should choose needed complexes of programs, switch on them, and do anything you desire without paying attention on work of the device. Since the apparatus has insignificant weight and small dimensions, you can take it with you wherever you go. Even a child can be learnt to use the device.
Functionality of the device allows using over 3000 physiotherapeutic programs which compose complexes. Each program represents a set of frequencies generated by the device consistently with specified time duration. If the device lacks required frequencies, there is a functional possibility to compose own programs, entering frequencies by hand. Regime and time of impact can be regulated.
The device is equipped with a miniUSB port for connection with PC. This port can be also used as an input for power supply from external source and battery charge.
The detailed instructions attached to each device can help to understand essence of applying BIOMEDIS quite quickly. To make the treatment more effective, it is recommended to contact a doctor that can help you to compose complexes of programs.
A therapy consists of sessions which compose a course of treatment; each session is a single impact by certain complex of programs. It is allowed to apply several sessions daily. Relatively more evident effect is caused by a course therapy.
BIOMEDIS is contraindicated in the following cases:
blood clotting;
pregnancy (1st trimester);
benign and cancerous tumors (allowed only under supervision of a highly qualified doctor);
babies that are younger than one year old (administration is allowed only under supervision of a physician);
existence of transplanted organs (allowed under supervision of a doctor);
existence of the implanted electrocardiostimulator;
individual intolerance to electric current (if hand electrodes are used);
epilepsy (episode), convulsive attack;
congenital defects of central nervous system;
severe psychic disorder or intoxication.
The physiotherapeutic device has registration certificate for production of medical equipment and declaration of conformity.

ATTENTION!
Consider contraindications related to application of device noted in instructions! Ask your doctor for advice!

You may learn out about any our product here.


Do you want to learn out more?

Contact us by phone +7 (495) 646-88-26

Our consultants will be happy to answer any questions.

Be healthy!