Software «Biomedis Delta»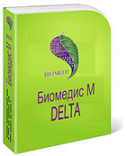 The software "Biomedis Delta" makes your work with the device "BIOMEDIS M" (Delta) simple and visual. It is just needed to connect the device with PC.
Sitting at PC, you can do the following actions quickly and conveniently:
download treating complexes from the device into software;
compose and change treating complexes and own programs;
see which programs compose any chosen complex;
see all frequencies which are included in any chosen program;
seek programs automatically, taking into considerations their names;
sort programs, while looking for them, depending on nosology;
compose and save not only one set but certain number of sets, containing 10 complexes and programs №1050-1059;
download needed set of treating programs into the device.
Your life becomes more comfortable with «BIOMEDIS DELTA»!
Installation Requirements:
System Windows XP/Vista/7;
256 MB of operating memory;
Monitor with not less than 800x600 resolution;
Installed Microsoft.Net Framework 4.
Download User's Guide on Software «BIOMEDIS DELTA» (pdf-file, 988 Kb)
Download Demo Version of Software «BIOMEDIS DELTA» (exe-file, 317 Kb)
Just one program complex can be composed, while using demo version.
Attention! The software "Biomedis Delta" suits only for such devices "Biomedis M" (DELTA) which have been purchased later than 12/08/12. The devices "Biomedis M" (DELTA), having new skins, purchased before 13/08/12 can be brought to service center for making changing in their software. This service is free.
---
Software «Biomedis Delta»
The software is used to create and change complexes and programs of the device «BIOMEDIS M» (DELTA).
» Buy

33.00 USD